Who wants to totally relax can choose one of our spacious junior suites in Marlengo of our hotel in South Tyrol with modern conveniences.
Junior suite with panoramic view
The junior suites with panorama are approx. 40 m² in size, are located in the main building and are bright and comfortably furnished. They are equipped with a bedroom with a double bed and a separate living room with sitting area and sofa. They offer plenty of space for two extra beds. On the sunny east facing balcony you will find a table with chairs for relaxing.
Room facilities:
bathroom with shower or tub, WC, bidet and hairdryer
deposit box and direct dial telephone
LCD flat TV, radio and minibar (drinks not included)
free Wi-Fi
bathrobes and bath towels during the stay
Also includet per person:
the MUSEUMOBILCARD 2023
This Card includes the following services:
Buses (city and extra-urban buses)
Regional trains
Cable cars: Mühlbach-Meransen, Burgstall-Vöran, Vilpian-Mölten, Bozen-Kohlern, Bozen-Ritten
Mendel funicular
Ritten narrow-gauge railway
PostAuto Schweiz bus service between Mals and Müstair
Entry for 1 visit to around 80 museums in South Tyrol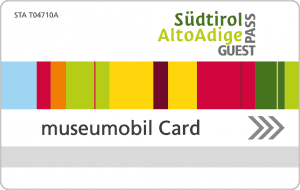 Room category
Price per person
Season
11.04. – 17.05.2023
21.05. – 26.05.2023
30.05. – 07.06.2023
11.06. – 02.07.2023
12.07. – 15.07.2023
15.10. – 01.11.2023
High season
06.04. – 10.04.2023
18.05. – 20.05.2023
27.05. – 29.05.2023
08.06. – 10.06.2023
16.07. – 14.10.2023
Week
06.04. – 02.07.2023
15.10. – 01.11.2023
Junior suite
with breakfast
from € 109.00
from € 127.00
from € 725.00
Scroll to top
We and selected third parties use cookies or similar technologies for technical purposes and, with your consent, also for other purposes as specified in the cookie policy. Refusal of consent may make the related functions unavailable. You can freely give, refuse or withdraw your consent at any time. Use the "Accept" button to consent to the use of these technologies. Use the "Decline" button or close this information to continue without accepting.
Agree
Decline
Settings
Privacy Settings
We and selected third parties use cookies or similar technologies for technical purposes and, with your consent, also for other purposes as specified in the
cookie policy
. Refusal of consent may make the related functions unavailable. You can freely give, refuse or withdraw your consent at any time. Use the "Accept" button to consent to the use of these technologies. Use the "Decline" button or close this information to continue without accepting.
Strictly Necessary Cookies
Strictly Necessary Cookie should be enabled at all times so that we can save your preferences for cookie settings.

Third Party Cookies
You can choose to prevent this website from aggregating and analyzing the actions you take here. This will protect your privacy, but will prevent the owner from learning from your actions and creating a better experience for you and other users.

This website uses the following Google services to protect against spam emails and Google Maps. Keeping these cookies enabled helps us to improve our website and provide the best possible user experience.
Social Plugins
Facebook - Twitter - Google+ - Youtube - Vimeo
Please find more information on the purpose, amount and processing of your data as well as your rights concerning them on social network's data protection terms. If you want to prevent the social network from collecting information about you through this website, you must log out from the account before visiting our website.
This websites uses social plug-ins of the so-called "social network". You will recognize the plug-in by the logo exposed on a website. The following actions are carried out by this plug-in:
• Your browser will connect directly to the servers of the social network
• The plug-in content is transferred by social network directly to your browser and implemented automatically
• If you are logged into the social network while visiting a website that uses this plug-in, the social network will be informed of it and thus relate your browsing this site to your social network account.
• interaction on your part with the plug-in will be redirected from your browser to the social network and stored there